I am in Radstock at what will be my sister's new vicarage and have been here for a full week rattling around whilst she is away on silent retreat. …Silent if you allow the odd sneaky text that is. (Do you think Jesus would have been a 'lol', smiley face texter? Wonder if there is an emoticon symbol for 'amen'? 🙂 or 'I cast you into hell you demon' 🙁 )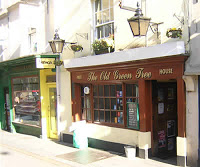 Its not the most handsome frontage but it is nice inside…lots of light and space,
Anyway its been rather interesting and rather odd to be somewhere completely new. I got to pad around Radstock and Bath a little and was introduced to a delightful tiny pub by some lovely fellow students. The pub is called The Green Tree Inn. It is very small and I thought I had stumbled into someone's living room. There was a fine selection of ale and decided I would drink my way down the list starting with 'Pitchfork', then 'Buttcombe' – ach how that tickled! However I can't quite remember the names of the rest..wasn't there one called 'Just Beyond The Haybales' or 'Now you'll Never get Home'?
The weeks been mostly very bright and very cold and quiet. I had to rest Grace this weekend after she had another bout of food poisoning, quite a bad one. They have very sensitive guts these pooches and I think she was also just a little overwhelmed by all the changes an
d all the work. She is in fine fettle now however and has been carefully placing her various toys on the stairs to test my eyesight in the morning. Isn't she thoughtful.
I'm happy to report that Dad is booked in for stem cell therapy in Pretoria in May and although he will have to go through another round of oral chemo before then he was pleased and relieved with the test results. Its a serious marathon; six weeks treatment followed by a minimum of three months recovery. He has been warned it can take over a year to get full strength back but he now has a goal and a strategy and that is important for all our various states of mind.
Back to Cambridge in a couple of days. Will be in touch from there…